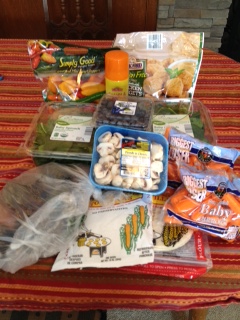 It's probably best I didn't realize QUITE how windy and fling snow in your face icky it was out there before heading out to ALDI, or I never would have gone. I went to Pete's, too, but let me just mostly tell you about ALDI… because my Pete's receipt blew away!
Yes. I've really lost two receipts in two days to the wind. I swear I don't normally litter, but ye gods, there was no catching that thing.
I did, however, pick up this adorable little container of organic heirloom tomatoes for $1.68 at Pete's. I'm not quite sure what I'm going to do with them yet, but they seemed neat, lol. I also got crimini mushrooms, celery — am throwing together a pot roast when Mr. 6's bus comes in a bit. Oh, and a 5 lb bag of red Michigan apples for $1.98, and some broccoli crowns for something like $.68/lb. And a dozen large eggs are still on sale for $.99 through 1/26.
ALDI in a windstorm
6 avocados, $2.94.
Gluten free chicken nuggets, $4.99.
16 oz mini sweet peppers, $1.99.
Sliced mushrooms, $1.49.
2 bags baby carrots, $.98.
2 organic baby spinach, $3.18.
Corn tortillas, $.35.
Pint blueberries, $1.79.
Canola cooking spray, $1.39.
Flour tortillas, $.89.
That all came to $20.34. So now we can live on granola bars and avocados. Seems reasonable, right? 😉