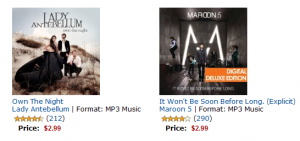 Amazon has dropped the price on twenty bestselling MP3 albums to just $2.99 each!
Everything from Taylor Swift to Maroon 5 to Lady Gaga to CCR.
Grab your free $5.00 MP3 credit, if you haven't yet
And, if you haven't yet, be sure to grab your free $5 Amazon MP3 credit from Scott Shared Values, which you can use to score free albums and more (see below).
Here's how to sign up:

This is pretty straightforward, and here's the deal.
First, sign up for Scott Shared Values, either through the widget above or this link here. (If you've already signed up with a Kimberly-Clark brand such as Scott, Cottonelle, Kotex, Huggies, etc., just use the link and you can sign up with your existing username and password.)
No purchase necessary — and one of the rewards you can claim? Free $5.00 Amazon MP3 credit.
Now, redeem your emailed code
Once you receive your code for the free $5 Amazon MP3 credit, you don't use it at checkout. Instead, you redeem your $5 code from Scott Shared Values here. This adds the $5 credit to your account, and then it's there waiting when you are ready to buy your music!
So, you could get a FREE $2.99 MP3 album and still have a couple of bucks left over.
Disclosure
I participated in a campaign on behalf of Mom Central Consulting for Scott. I received a promotional item as a thank-you for participating and am able to earn additional rewards throughout the campaign.
Posts on Mashup Mom may contain affiliate links. Please see the disclosure and disclaimer statement.