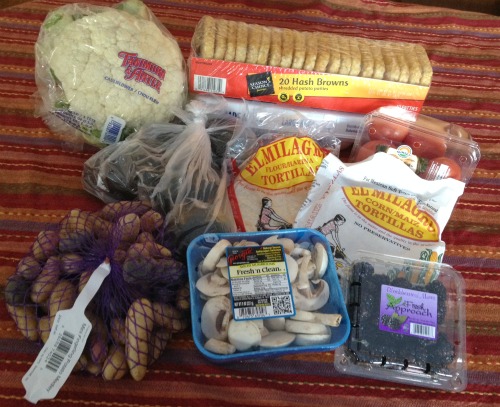 Do you ever go to ALDI just because it's too flipping cold out and you're too sick of the snow and the hassle to deal with a big parking lot and navigating a big store and… yeah, I totally had that going on today. So, ALDI:
Cauliflower, $2.49.
Mushrooms, $1.49.
Corn tortillas, $.35.
Fingerling potatoes, $1.49.
Eggs, $1.59. Will get $.50 back from Checkout 51.
Roma tomatoes, $1.49. (Hmm, I could swear it said $1.29. Oh well.)
Hash browns, $2.99.
Blackberries, $.99.
5 avocados, $2.95.
Flour tortillas, $.89.
So that came to $17.01. Tonight we're having the rotisserie chicken I got from Costco a couple days ago and we never ate, lol. Tomorrow I'm thinking crock pot salsa chicken w/ guacamole, which generally lasts a couple days. That's as far as my meal planning has gotten this week, how about you?!