I received an ALDI gift certificate for the purpose of this post; however, all opinions here are my own.
Here's a fun one sponsored by ALDI, where I've actually been shopping all summer long.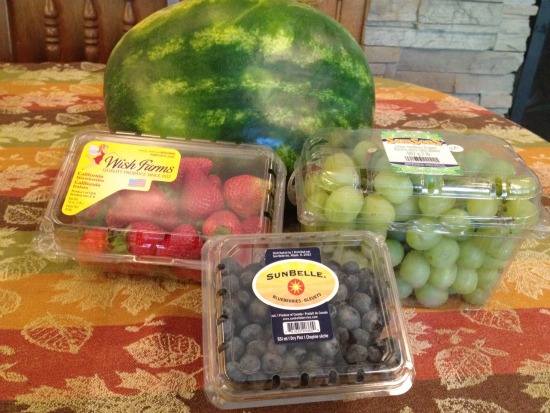 Mostly, to be honest, for the affordable fresh summer fruit — I just took a quick gander, and this is the haul of summer fruit of ALDI origin that I have in my house right now. (OK, I also had some nice portabella mushroom caps as late as last night… but we ate them! And technically, those are fungi, but… let's not quibble.) The strawberries and blueberries were $1.29 each, the seedless watermelon just $2.49, and the grapes were $1.58, so everything pictured above was under $7.00.
And I've been buying produce for fresh summer recipes all season long, too. This spicy pico de gallo, for instance, sports ALDI avocado and Vidalia onion, along with tomatoes from my own garden. Is it disturbing that I remember that the avocado was just $.69?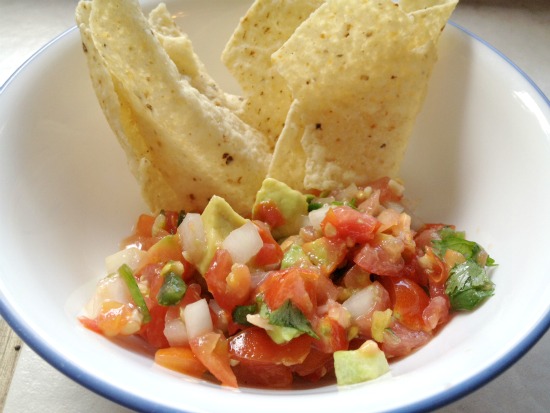 Oh yeah, and we ate some of the pico de gallo with Clancy's tortilla chips from ALDI ($1.19 — which it's OK that I remember, because this is one thing I buy all year round).
And aren't these Summer Blast twin pops fun? The kids can never agree on flavors — you can see above that Mr. 6 is a fan of the root beer, while Mr. 10 went for sour green apple. I was going to make them split one, cause they're twin pops, but poor Mr. 10 had been in middle school all day in our 95 degree heat with no air conditioning and Mr. 6 had been stuck outside waiting for a bus, so I think they earned them. (And that's why the floor is so messy in the background — I let them cool off before picking up the toys, lol.)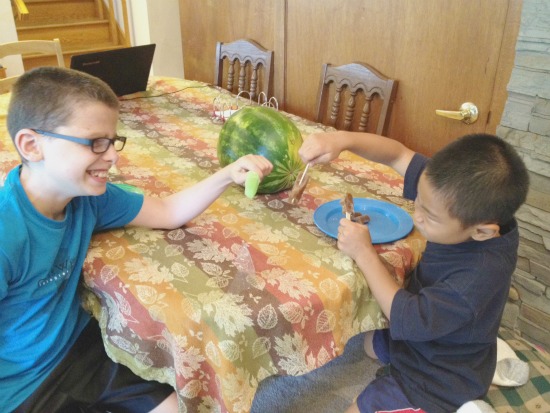 Until it degenerated into an ALDI ice pop light saber fight… but these things happen, when you have boys.
On to the giveaway
Wait, what can you win?
How do you enter?
Comment here and let me know what you'd buy with your ALDI gift certificate bounty.
One entry per comment; one comment per person; each comment is an entry. Enter through 11:59 PM Central on 9/2/13. U.S. residents only. If you are reading this through email or Facebook, please click on the title of this post (up at the top where it says "ALDI Saving…") to go back to the blog. Scroll down to the bottom of the post and you will see a box to enter your comment; just comment there to enter. Email and Facebook entries will not be counted. If you are reading the Mashup Mom homepage on the web, look at the bottom of this post where it says "___ comments." Click on that to get the box to enter your own comment.
The fine print
Prizing and information for this giveaway has been provided by ALDI. I received an ALDI gift certificate for purposes of this post; however, all opinions here are my own. The winner will be chosen on or around 9/3/13 through random number generation at random.org and will have 48 hours to respond to notification email; Mashup Mom reserves the right to choose a runner up if no response is received in that timeframe.
No purchase necessary. The number of eligible entries receives determines the odds of winning. Void where prohibited. Please allow 8 weeks for delivery of your prize.