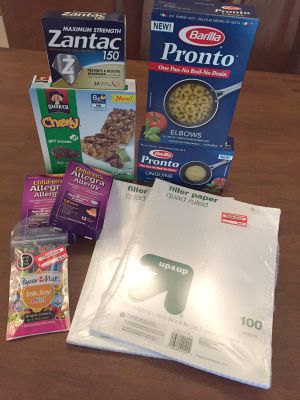 I stopped by the Hillside Target today to check out the school supplies and summer clearance. Now a smarter blogger would have done this a couple of days ago, since it was very picked over, but my whole week feels a day late and a dollar short. You got that too? lol… ANYway, the above cost me about $2.60 after gift card + cash back.
Details on the Allegra deal here (bought for a friend whose daughter takes it).
Zantac deal info here — but I used the $4.00 coupon in the 9/13 SS instead of the older printable.
The silly tiny clearance pens were $.03 after the $.55/1 Paper Mate coupon in the 7/26 SS, and the clearance graph paper was a late addition to school-supplies-I-didn't-realize-we-needed, so was happy with that find.
I already told you about the Annie's mac & cheese deal with new coupon, but here are some more things I spotted.
Here are some clearance deals… Hillside today, but take a look at your store and see what you can spot.
Threshold organic cotton twin XL sheet set, $14.98.
Sara Lee snack cakes were still $2.50 at my store, so if you see them for $2.99 try a different Target if you have a choice near you.
This cute school supplies case was $1.78.
Post-Its, $.7o (down from… $0.00, lol).
Kitchen-Aid stand mixer model KSM75WH, $124.98.
Swanson cream starter, $1.37.
Whole 4 lb Bare chicken, $7.99 with $4.00 off clearance sticker — they had several when I was there earlier.
Room Essentials throw rugs, $4.98.
2 pack toss pillows, $9.98.
What have you found lately? I'm sure some of you were more on top of the summer clearance than I was!