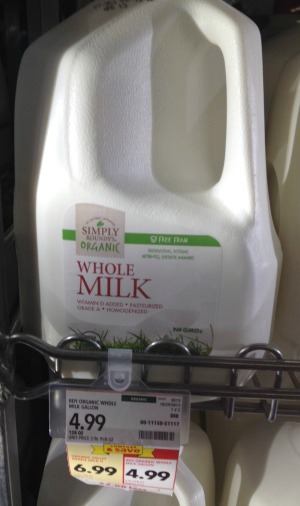 I stopped by Mariano's today to pick up more Udi's gluten free bread ($3.50 through today, so $2.00 after the $1.50/1 printable here). Their organic milk is still on sale today for $4.99, so a good thing to help get you up to $25 for double coupons. Some nice doubles ideas if you get there today:
Coffee-Mate 32 oz creamer, $2.50. Print $1.00/1 on Facebook to get it for $.50 after doubles.
Muir Glen 28 oz organic tomatoes, $1.75. Look for $1.00/2 peelies, which will double to get you two for $1.50, or just $.75 each.
Select Applegate natural nitrate free lunch meat, $3.00. Print $1.00/1 here, so $1.00 after doubles.
Dannon Greek Superstars yogurt four packs, $2.59. Use $1.00/1 in the 2/23 SS or print $1.00/1 here to get it for $.59 after doubles.
Yoplait yogurt cups, $.60. Check your stash — I had a couple of $1.00/4 printables from the beginning of last month expiring today and tomorrow. If you do too, get four for $.40 after doubled $1.00/4 printable, or $.10 each.
64 oz chilled Almond Breeze, $3.29. If you still have the $1.00/1 printable (no longer available), it's $1.29 after doubles.
Again, every Wed. Mariano's doubles a max of 5 coupons with a face value of up to $1.00 (so $1.00 doubles to $2.00) with a minimum $25 purchase when you use your rewards card.