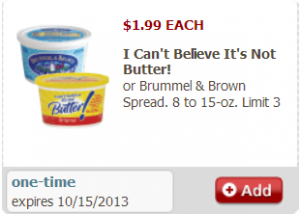 Head to Dominick's Just for U and load a $1.99 price for I Can't Believe It's Not Butter, limit 3. Now, print $1.50/1 here and you have $.49 not butter!

Heather points out: "The ICNB coupon prints for the 45oz tub only."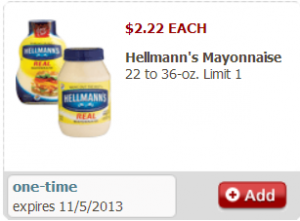 Also load a $2.22 price for Hellmann's mayo, limit 1. On the same Walmart site, print a $1.00/1 Hellmann's mayo and you'll get one for $1.22!
McCormick spices
CCsavings on Jill Cataldo's site spotted this one: McCormick Grill Mates and Perfect Pinch, $.99 each when you buy three or more. So, buy four for $3.96. Use two $1.75/2 from the 10/6 RP and you have four spices for $.46, or $.12 each!