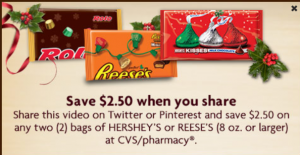 This is a really long video you have to watch. But, let it run, and then you can print a $2.50/2 Hershey's or Reese's bags CVS store coupon when you share on Facebook, Pinterest or twitter.
Starting Sunday 11/24 at CVS, Hershey's candy will be BOGO at $4.39. SO!
Get two bags of candy for $.79, or $.40 each!