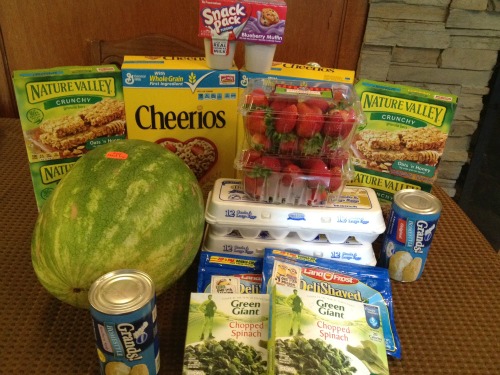 Stopped at Ultra today to take advantage of the 2 day sale and the GM craziness. So…
2 boxes Cheerios, $2.76 after instant savings. Used exp. $1.00/2 in the 6/9 SS.
Watermelon, $2.88.
2 Green Giant chopped spinach, $1.56 after instant savings.
4 boxes Nature Valley granola bars, $5.52 after instant savings. Used four $.50/1 from the 6/23 SS.
2 Pillsbury Grands, $1.76 after instant savings. Used exp. $1.00/2 from the 5/19 SS.
2 Land O' Frost deli shaved lunch meats, $3.00. Used two $1.00/1 printables (no longer available).
Hunt's blueberry pudding, clearanced at $.25.
2 dozen eggs, $1.76.
2 lbs strawberries, $1.96.
Saved $.05 by bringing my own bag. Paid $15.77, or $.88 an item. Here are the matchups for the GM buy ten save $5 instantly sale, incorporating yesterday's printables!
Oh, and I also saw the empty cardboard holders for the Nabisco back-to-school booklet some of you have mentioned — so I guess I was too late, and don't try the Lombard Ultra Foods for those, lol.