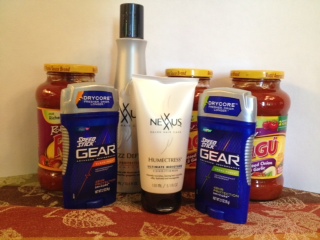 Stopped by CVS with Mr. 7 this morning — he loves being my Sunday morning shopping buddy lately, so, we'll ease him in slowly with a small store like CVS. 😉 I received another 30% off coupon in email this week — they seem to go in spurts, and I'll get a bunch in a row and then have a dry spell. So as long as they keep coming, I'll keep using them!
3 Ragu, $5.00. Used $.40/2 from the 7/27 RP2.
2 Speed Stick Gear deodorant, $10.58. Used BOGO from the 7/27 SS1, which took off $4.29.
Posterboard for Mr. 7, $.99.
Nexxus shampoo, $10.99. Used $6.00/1 from Real Simple magazine.
Nexxus conditioner, $10.49.
Used the 30% off coupon from my email, which took off $9.92. Used $17 in ECB and paid $2.44. Got back $18 in ECB: $10 Nexxus, $5 deodorant, and $3 Ragu, for a net cost of $1.44.